Newsletters from Town & Country Animal Hospital
Newsletter
The veterinarians and staff at the Town & Country Animal Hospital are pleased to provide you with an online newsletter. This fun and fact-filled newsletter is updated on a regular basis.
Included in the newsletter are articles pertaining to pet care, information on our animal hospital, as well as news on the latest trends and discoveries in veterinary medicine.
Please enjoy the newsletter!
Current Newsletter Topics
Happy 2020! New Year, New Pet Resolutions
A new year is upon us. With it comes the opportunity to start anew and set some goals for better, healthier and more productive living. As a pet owner, the new year also marks a fresh opportunity to include your pet's well-being in your plans.
Here are five New Year's resolutions to consider:
1. Resolve to engage in more physical activity and exercise with your pet – It may still be cold outside, but even increasing your daily walk by a few minutes will be beneficial to you and your four-legged friend. Play can also happen indoors. Ward off obesity and behavior issues before they become a problem. Games of fetch, play-wrestling or tug-of-war all are ways to keep your pup active and engaged.
2. Resolve to feed your pet a healthier diet – You may think feeding your pet human food is a way to show your love, but much of it can be fatty and unhealthy for your dog or cat. Just as you may be resolving to watch your own waistline, your canine or feline companion requires a diet that is formulated to provide all of the nutrients he or she requires. Do some research and invest in a high-quality kibble, canned food or raw diet plan – and be careful, as supplementing that with unhealthy human scraps is a leading contributor to weight gain.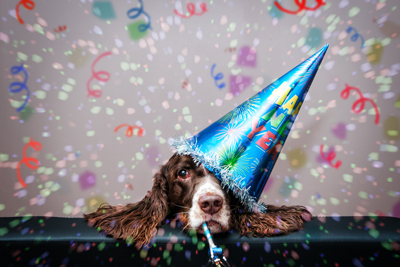 3. Resolve to provide your pet with regular veterinary care – As pets age much faster than humans, a lot can happen with their health over the course of a year. Preventive pet health care is the best thing you can do to ensure your furry friend lives a long, happy and healthy life. Between visits to your veterinarian, take measures to continue care at home. This includes giving regular baths, grooming and brushing his or her teeth.
4. Resolve to curb bad behaviors – Being lovingly mauled by your pooch when you arrive home was cute for a while, but maybe the bruises are getting a little out of hand. This year, step up your training game and make it part of your pet's regular routine. Reward good behavior and stop passively encouraging the bad.
5. Resolve to be the best pet parent you can be – Odds are you probably already pamper your pet quite a bit. In 2020, look for more ways to be an outstanding owner. Maybe this means finally getting around to microchipping your pet, investing in pet health insurance or starting a savings fund, or introducing an adopted pet brother or sister into your home. You can also endeavor to do things that benefit you and your pet, such as getting him or her a stylish new bed that complements your décor or organizing that overflowing toy bin.
Hill's Pet Nutrition Voluntarily Recalls Select Canned Dog Food for Excessive Vitamin D
Update January 31, 6:30 pm CST:
Hill's Pet Nutrition is voluntarily recalling select canned dog food products due to potentially elevated levels of vitamin D. While vitamin D is an essential nutrient for dogs, ingestion of elevated levels can lead to potential health issues depending on the level of vitamin D and the length of exposure, and dogs may exhibit symptoms such as vomiting, loss of appetite, increased thirst, increased urination, excessive drooling, and weight loss. Vitamin D, when consumed at very high levels, can lead to serious health issues in dogs including renal dysfunction. Pet parents with dogs who have consumed any of the products listed and are exhibiting any of these signs should contact their veterinarian. In most cases, complete recovery is expected after discontinuation of feeding.
In the United States, the affected canned dog foods were distributed through retail pet stores and veterinary clinics nationwide. No dry foods, cat foods, or treats are affected.
Pet parents who purchased the product with the specific lot/date codes listed should discontinue feeding and dispose of those products immediately or return unopened product to your retailer for a refund. For more information, please contact Hill's via our website or at 1-800-445-5777.
Hill's Pet Nutrition learned of the potential for elevated vitamin D levels in some of our canned dog foods after receiving a complaint in the United States about a dog exhibiting signs of elevated vitamin D levels. Our investigation confirmed elevated levels of vitamin D due to a supplier error.
We care deeply about all pets and are committed to providing pet parents with safe and high-quality products. Hill's has identified and isolated the error and, to prevent this from happening again, we have required our supplier to implement additional quality testing prior to their release of ingredients. In addition to our existing safety processes, we are adding our own further testing of incoming ingredients.
For further information, please contact Hill's Pet Nutrition, Inc. at 1-800-445-5777 Monday-Friday during the hours of 9am-5pm (CST) or at contactus@hillspet.com.
This voluntary recall only impacts canned dog food and primarily in the United States. It is being conducted in cooperation with the U.S. Food and Drug Administration. Impacted products outside of the United States will be subject to separate notices on the country-specific website. If you are outside of the United States, please check your own country's Hill's website for more information.
Family Addition: Adopting Pets as a Couple
You've finally found the love of your life, have begun cohabitating and couldn't be happier. Yet amidst the romantic bliss, something seems amiss. A pet! You desperately want a precious little fur baby to call your own and share your home with. Maybe you have a child or children together already, or maybe it's just the two of you. Either way, there are several things to consider before you introduce a furry friend into the mix.
Adopting a pet is a great way to combat the high number of pets in shelters, but don't jump into the commitment unless you are both ready for the added work and responsibility. By talking it out the decision to adopt ahead of time, you'll greatly reduce the risk of ever having to return your pet to a shelter.
These seven questions should help you determine if you are ready to adopt as a couple:
1. Do you both want to adopt a pet?
In some cases, one partner can be much more gung-ho about wanting to adopt a pet than the other. If this is the case in your relationship, it's important to discuss. Will you be the one able to take the animal out and feed it most often? Will a pet prevent your partner from doing certain things he or she wants to experience as a couple – such as spontaneous trips where having a pet would be a hindrance? Would either of you prefer purchasing from a breeder rather than adopting?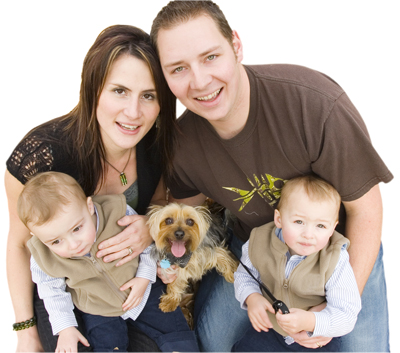 2. Do you both want to adopt the same kind of pet?
Are you a dog person but your partner loves cats? If one of you will be compromising, you should determine just how big of a deal this will become. Will your partner resent you, or vice versa? Can your cat-loving pet co-parent ever love a canine?
3. Do you have the time needed to care for your new pet?
Many couples work long hours, often on different schedules. A pet requires consistency, especially during training. If you're barely home, or just want to sleep whenever you can, a pet probably isn't a good idea at this time. Pets are like children and require a lot of attention.
4. Can you afford it?
Adopting a pet comes with the upfront cost of the adoption fee, but it doesn't end there. Even after you go crazy at Petco buying coordinating bowls, a luxurious bed and every toy imaginable, there's still the monthly expense of feeding your new friend. Plus, health issues can arise at any time, especially as your pet ages. You should be financially stable enough to prepare for these situations. You'll also need to bring your pet to a veterinarian at least once a year to ensure they remain in tip-top health.
5. Will your long-term living situation accommodate a pet?
If you live in a pet-friendly apartment, what happens when your lease is up or your landlord sells the property? How difficult will it be to find a place you can afford that also allows the pet you are considering adopting? Many pet-friendly apartments only allow small dogs or cats and prohibit certain "aggressive breeds" due to insurance costs or personal preferences. Many pets in shelters are there because of living arrangements that could no longer accommodate them.
6. Is your relationship stable enough?
If you're breaking up every other week, that's going to create a lot of chaos for an adopted pet who would benefit from a stable environment. Arguing or dividing the pet between two residences when this happens will cause unneeded stress on the animal. Also, if your relationship is suffering and you think a pet can help make it better – think again.
7. Are either of you only compensating for wanting to have a child?
Caring for a pet requires teamwork, sharing responsibilities and compassion. The same is true for a child, but that's where the similarities end. A pet matures much faster than an infant, so basing your readiness for human parenthood on your pet-parenting skills isn't the best gauge. If you're getting a pet because your partner doesn't want a child but you do, you're not going to feel completely fulfilled. Even worse, couples who get pets as substitutes for children are more apt to tire of caring for a baby and a pet when that time comes. Don't adopt if you can't promise to love your pet unconditionally – even if you have a baby in the future. Your pet is your fur child- forever!
Beware of Counterfeit Pest Products for Dogs and Cats
Pet owners shopping for Frontline, Advantage and other flea control products for their pets should be on the lookout for counterfeit versions of those products appearing on retailers' shelves. According to the U.S. Environmental Protection Agency, these products are packaged in cartons designed to look like legitimate versions of Advantage and Frontline but are not approved by the EPA.
These counterfeit products may be missing instruction leaflets required by U.S. law. The packages also may not feature required child-resistant packaging and the applicators may not be the appropriate size dosage for the animal indicated on the package. Using such products could put your pet at risk as the counterfeit products may contain too much or too little dosage or different ingredients all together, according to the EPA. The packages for the legitimate and counterfeit versions of each product look similar, so you must open the packages and examine the contents inside to determine legitimacy.
Legitimate Frontline products will meet the following criteria:
• The lot number on the carton and the lot number on the applicator package or individual applicators will match.
• The instruction leaflet is included and provides safety information, U.S. telephone numbers and storage and disposal instructions.
• The applicator package is child resistant, and directions for opening the applicator package include an illustration that looks like the applicator package.
• The applicator package has a notch between each individual applicator package. Text on the package is in English only.
• Each individual applicator has a label that includes the name of the manufacturer (Merial); the EPA registration number; the contents measured in fluid ounces (not metric measurement); a list of active ingredients, and the statements "Caution", "Keep out of reach of children" and "See full label for additional directions" in English.
• The applicator label for dog products includes the size of the dog in pounds.
For Advantage products, the following criteria can be used to determine legitimacy:
• All applicator tubes will feature directions printed in English. Any applicator with instructions in another language is counterfeit.
• Applicator tubes will include the EPA registration number, word "WARNING" and a child-safety statement.
• Also on the tube is a reference to referring to the main label of the product for directions, as well as the name of the manufacturer (Bayer).
• Legitimate products will feature an active ingredient statement that matches the statement on the retail carton. Counterfeit products may feature different statements.
It is important to note that the EPA also considers versions of the drug sold in foreign countries - but imported into the United States - to be counterfeit as well. Products purchased in foreign countries may not have the same safety warnings or child-resistant packaging as products approved for sale in America and the dosages and ingredients may be different. If you have purchased counterfeit products, the EPA recommends you dispose of the product according to local solid waste guidelines. You should also notify the staff of the retail outlet you purchased the product from as well as the EPA regional office in your state.
Click here for more information about these counterfeit products.